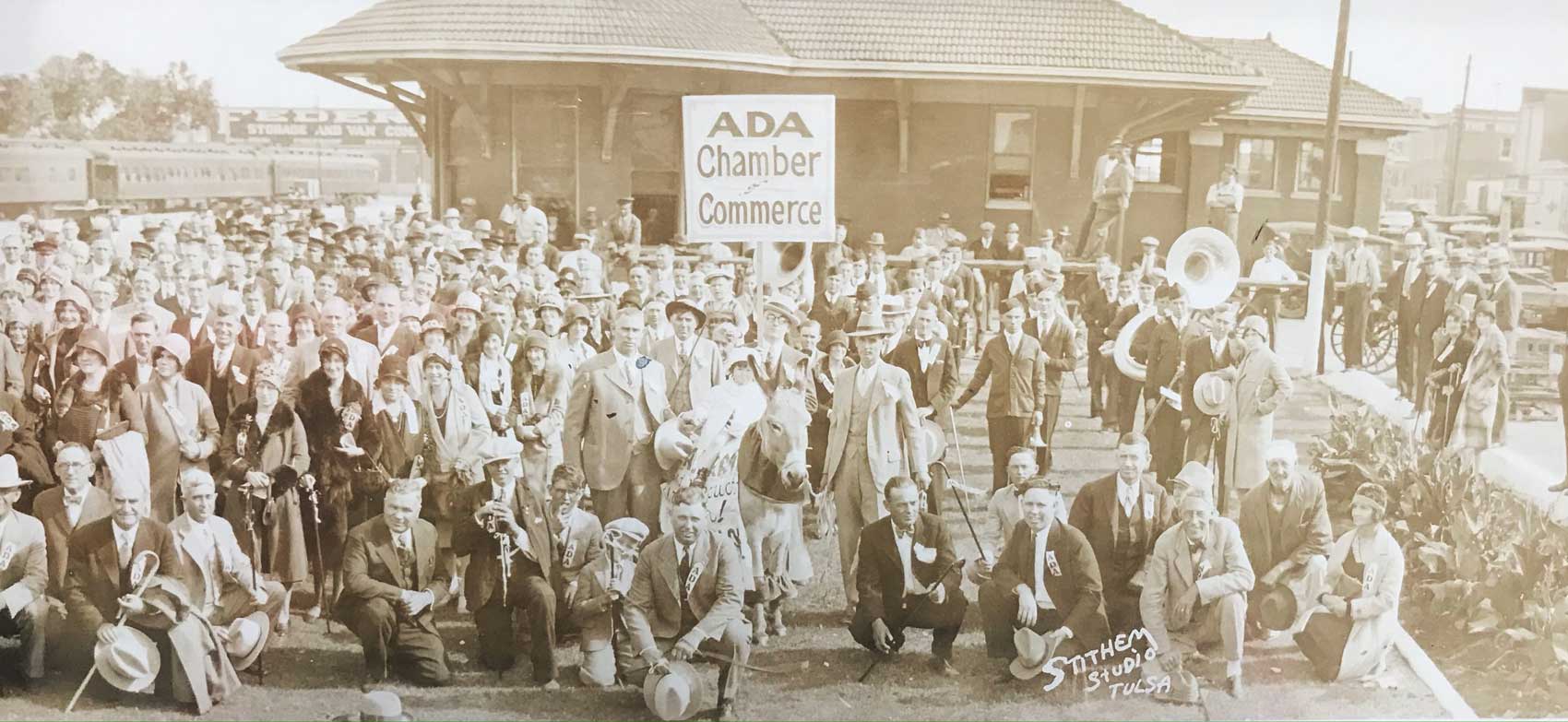 The town, dubbed "Dagg's Prairie" and "Reed's Store" in the early days, became "Ada" when a post office was established. Soon, the railroad was laying track through town and the new community was off and running. The town itself made the important early decision to move across Sandy Creek to the "new" downtown area near the railroad tracks, and established a thriving business district surrounded by residential neighborhoods. Very soon, the bustling new town would be home to a state college. Ada, even in the early days, showed a remarkable ability to adapt. Cotton was king in early Ada, and, on market days, the streets of Ada were "white as a snowy day" from the loose cotton. When cotton flagged, oil was discovered in the Fitts Field bringing renewed vitality to the area. As the new economy dawned following World War II, community leaders joined together to seek out and lure new industry to the town. Ada, has been a town of vitality and spirit. From the 25,000 Club to the modern-day Ada Area Chamber of Commerce, the town has displayed the attribute of working together and getting projects completed. While so many other Oklahoma communities, particularly the rural ones, have declined, Ada has managed to grow, prosper, and flourish.
Ada Chamber of Commerce Timeline: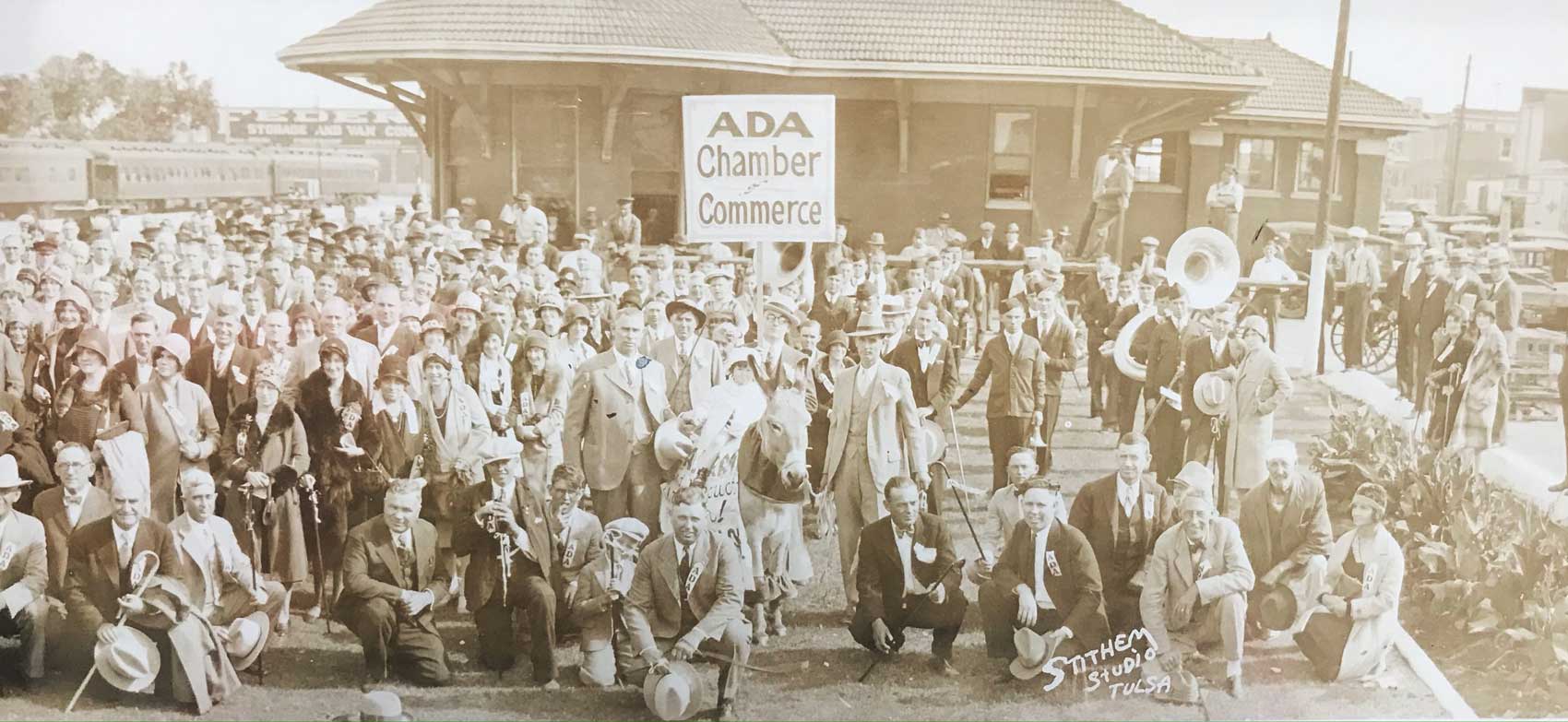 1901
Commercial Club formed – forerunner of the 25,000 Club and the Ada Area Chamber of Commerce
One of the first achievements was to build a bridge across Sandy Creek, allowing cotton to be hauled into Ada gins and compress. Cotton was the first economic stimulus for Ada – started by the Commercial Club
By December 31, 1901, fifteen thousand bales of cotton were sold at a value of $600,000.
Cattle ranches started and began the second economic stimulus
Commercial Club influenced Ada Milling Company, Ada Brick Yard, Ada Asphalt Company, The Choctaw Cotton Oil Company, and the start of the Harris Hotel in Ada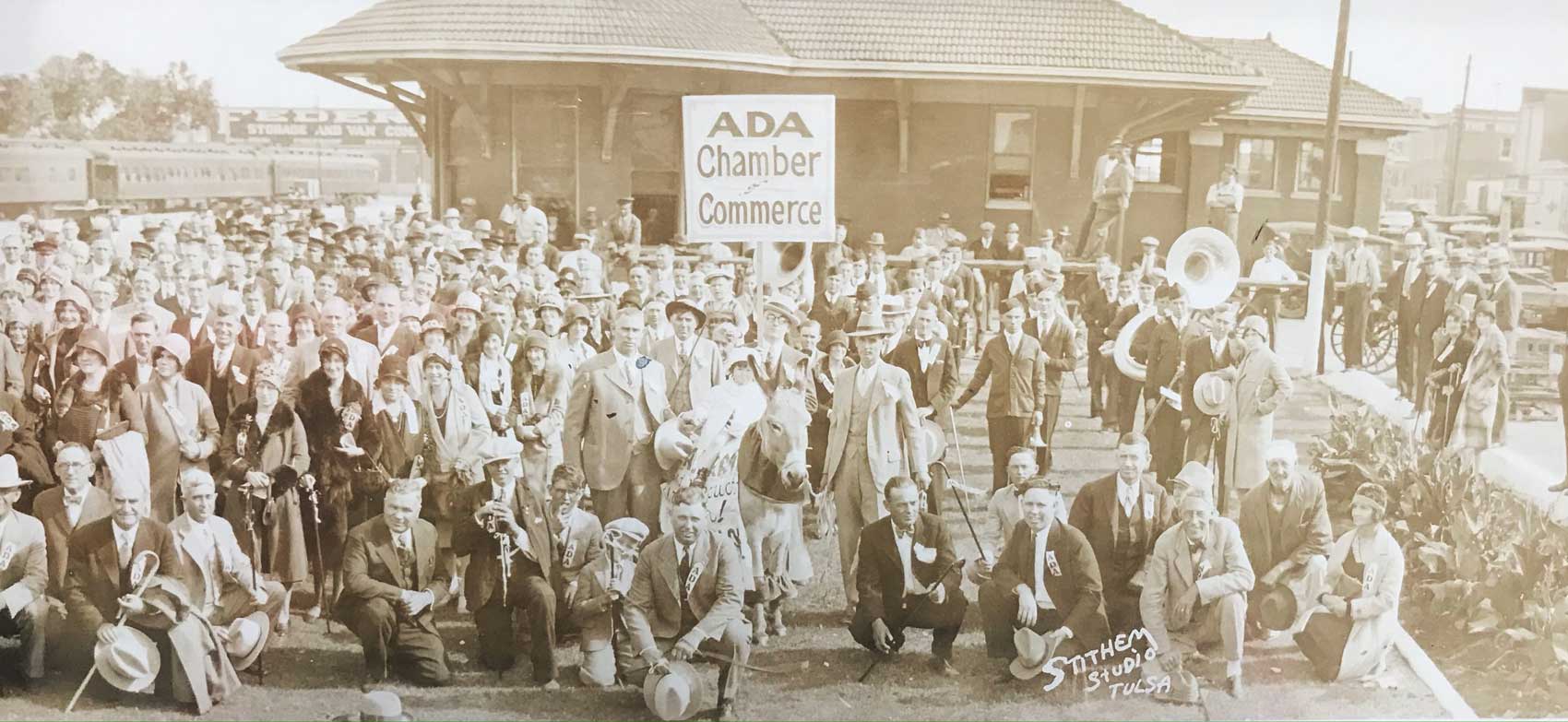 1905
The Missouri, Kansas, and Texas Railroad completed construction. This was done by the Commercial Club and several Ada businessmen giving an incentive of a $10,500 bonus.
City was being considered for a Portland Cement factory but needed a water supply. Adam Beck purchased 280 acres SW of town and started the Oklahoma Portland Cement Company, with water furnished by the new town lake, Wintersmith Lake.
-60,000 bales of hay were compressed at a value of $3,000,000
-Cattle and hogs valued at $170,000 were shipped from Ada to other destinations across Oklahoma, Texas, Missouri, and Kansas.
Ada had three National Banks with over $200,000 in reserves.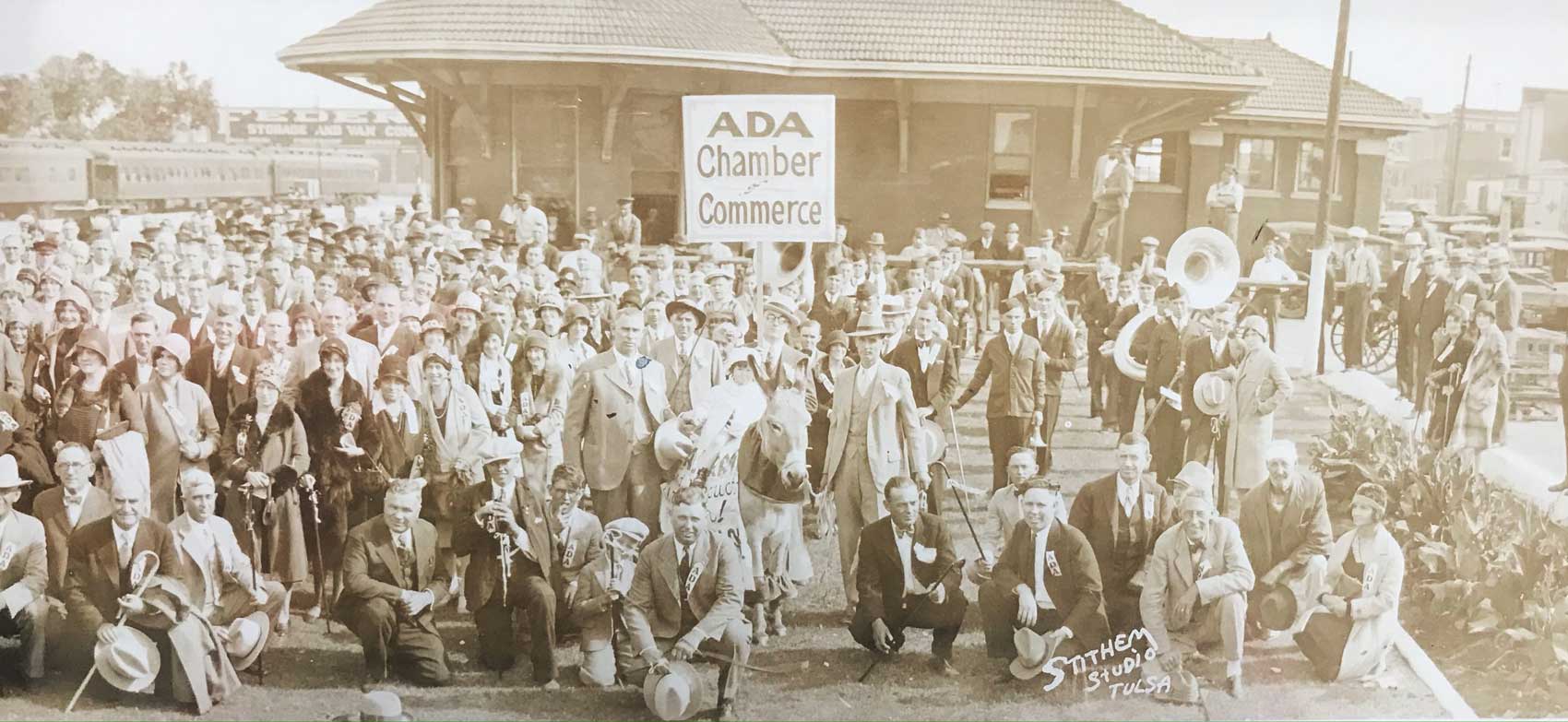 1907
25,000 Club was formed. The Commercial Club dissolved into the 25,000 Club. The goal was to grow the city population to 25,000. The 25,000 Club met on the second floor of what is Diamond Shop today.
Ada Pressed Brick and Tile Company opened and Ada High School graduated their first class of seven students at the First Methodist Church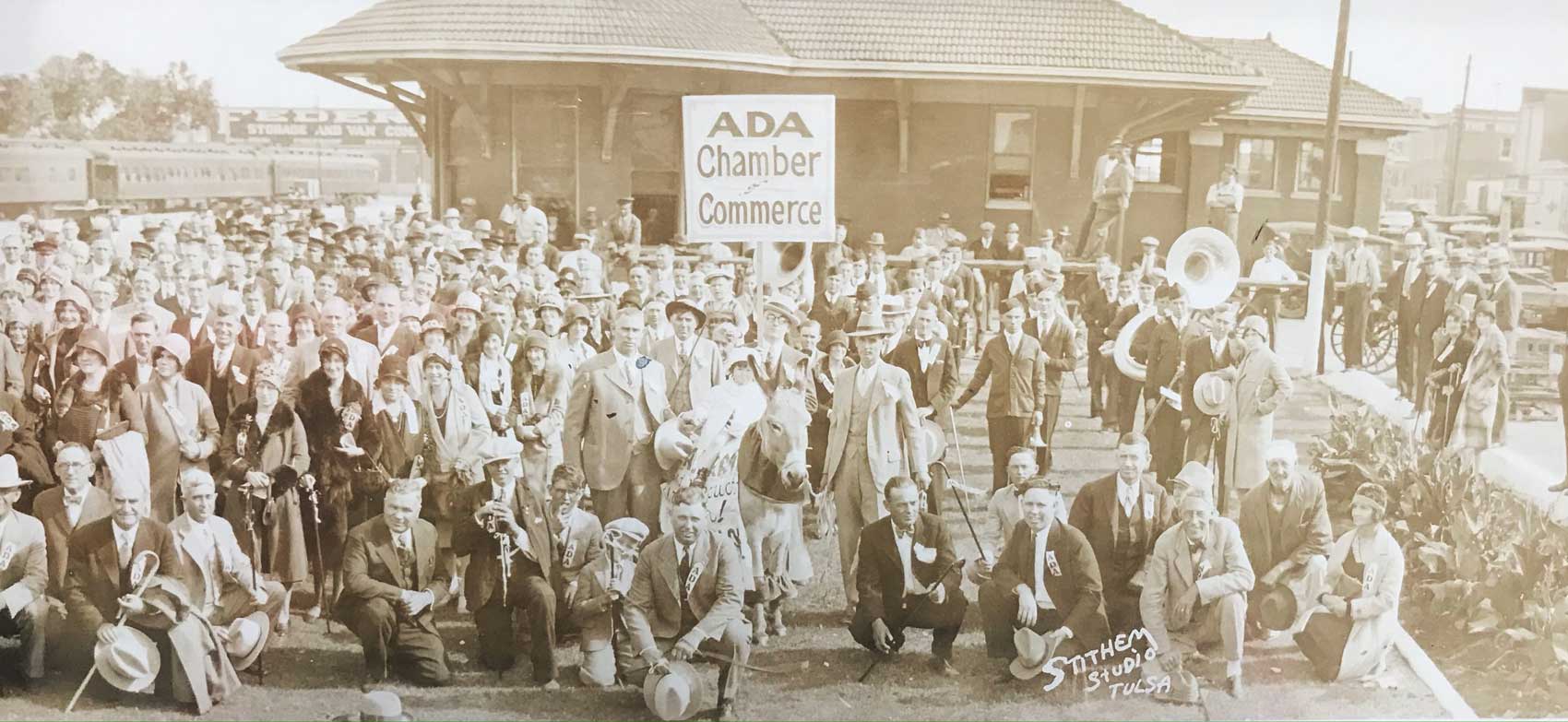 1908
Ada infrastructure in place for business! Railroads, industry, multiple churches, thriving small businesses, and the push for higher education.
The 25,000 Club collected donations to fund a lobbyist group at the State Legislature to push for a school.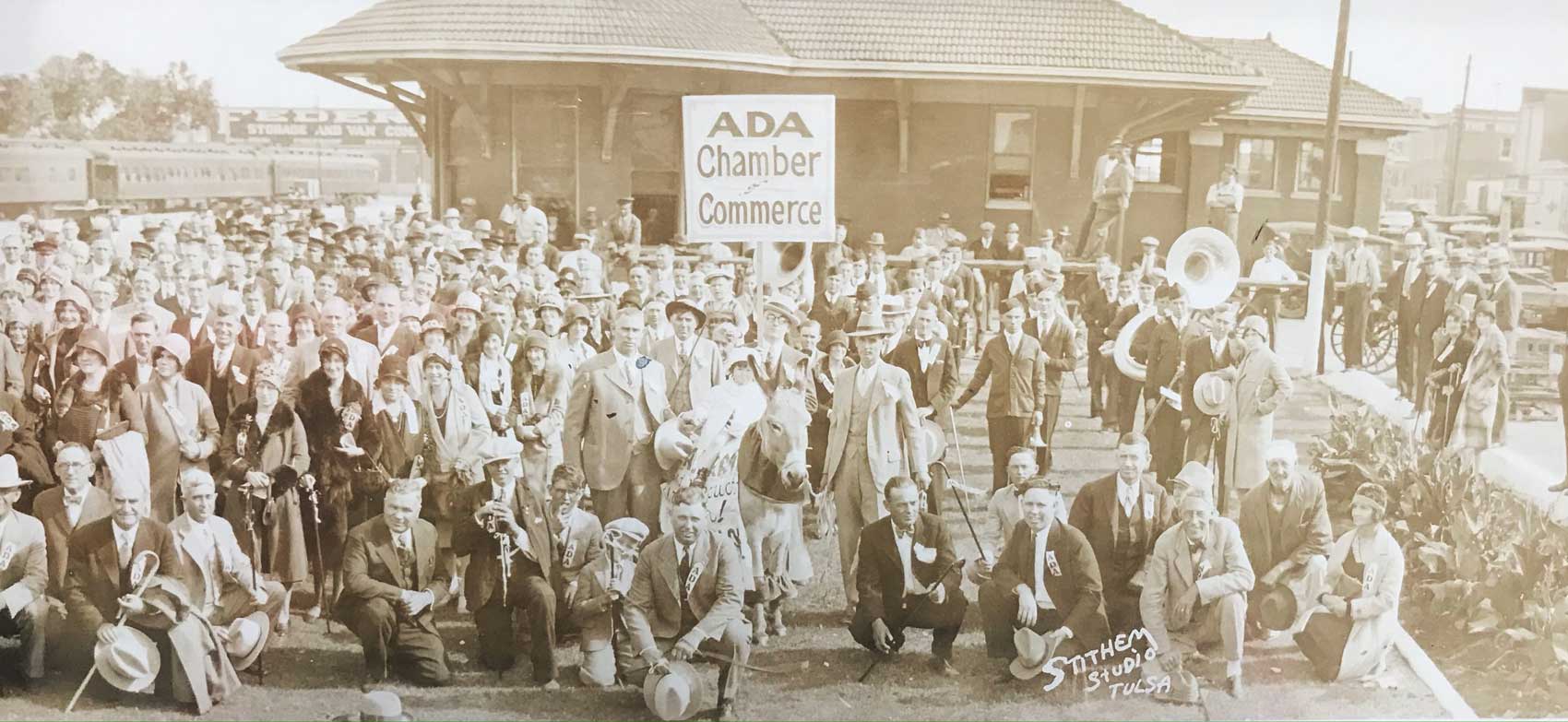 1909
East Central opened to students – without a president, no faculty, no curriculum, no building, and no operating funds. The 25,000 Club raised monies to pay teachers until the appropriations were made by the State Legislature along with facilities.
The Hanging of 1909: The assignation of Gus Bobbitt brought an angry mob to the 25,000 Club with $700 collected to "find the guilty." The 25,000 Club used the money to fund a posse to find the guilty.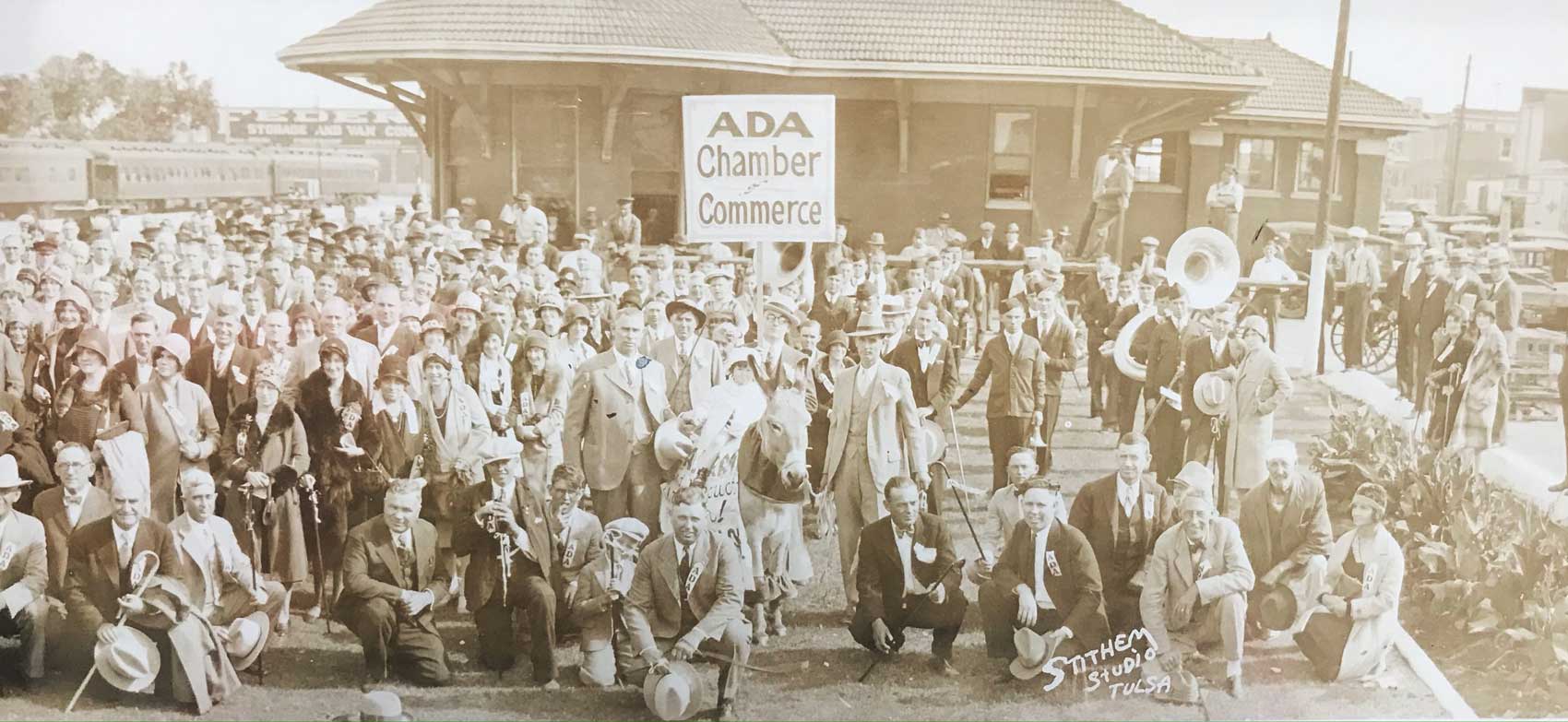 1916
Ada Chamber of Commerce donated 16 acres of land to build the American Glass Casket Factory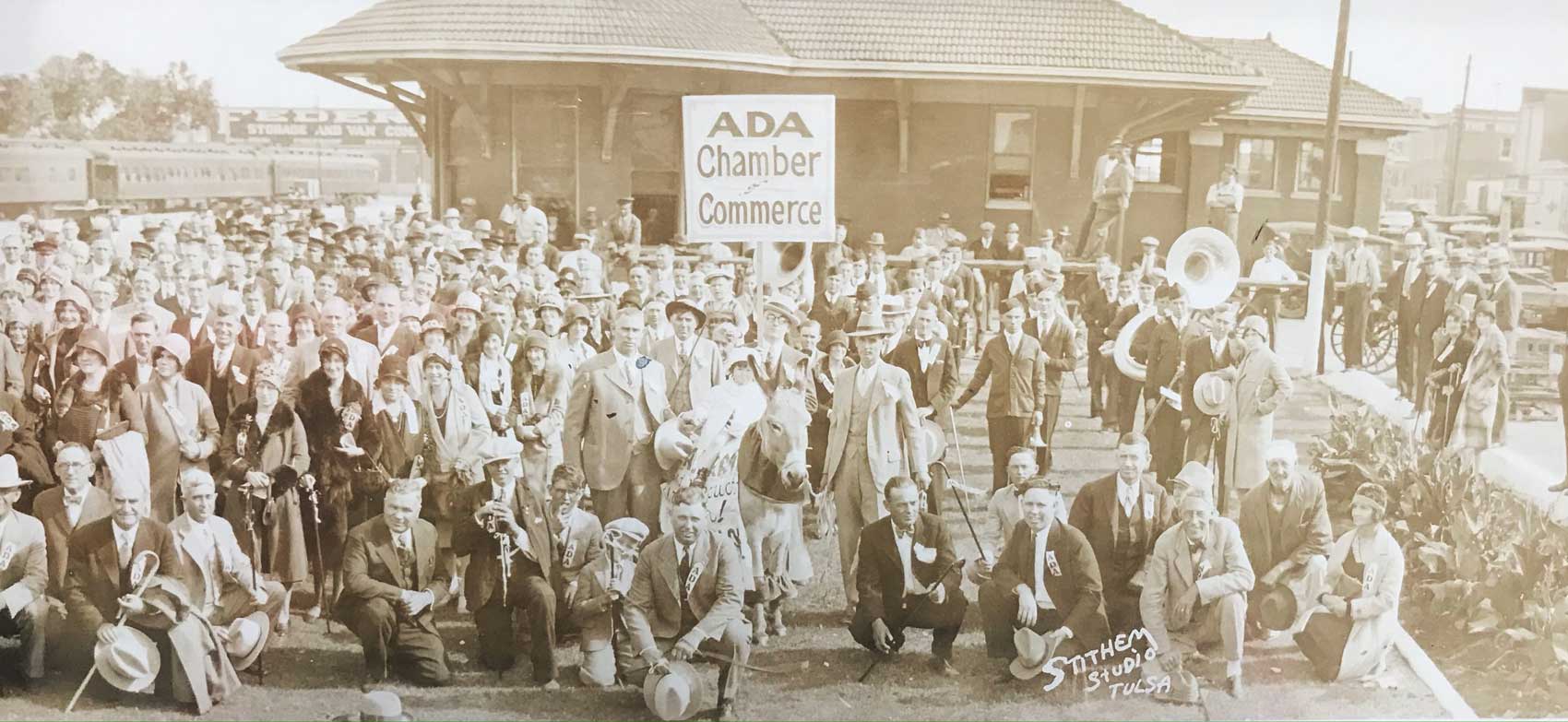 1924
Ada Chamber of Commerce was the first to chartered and incorporated c chamber in Oklahoma.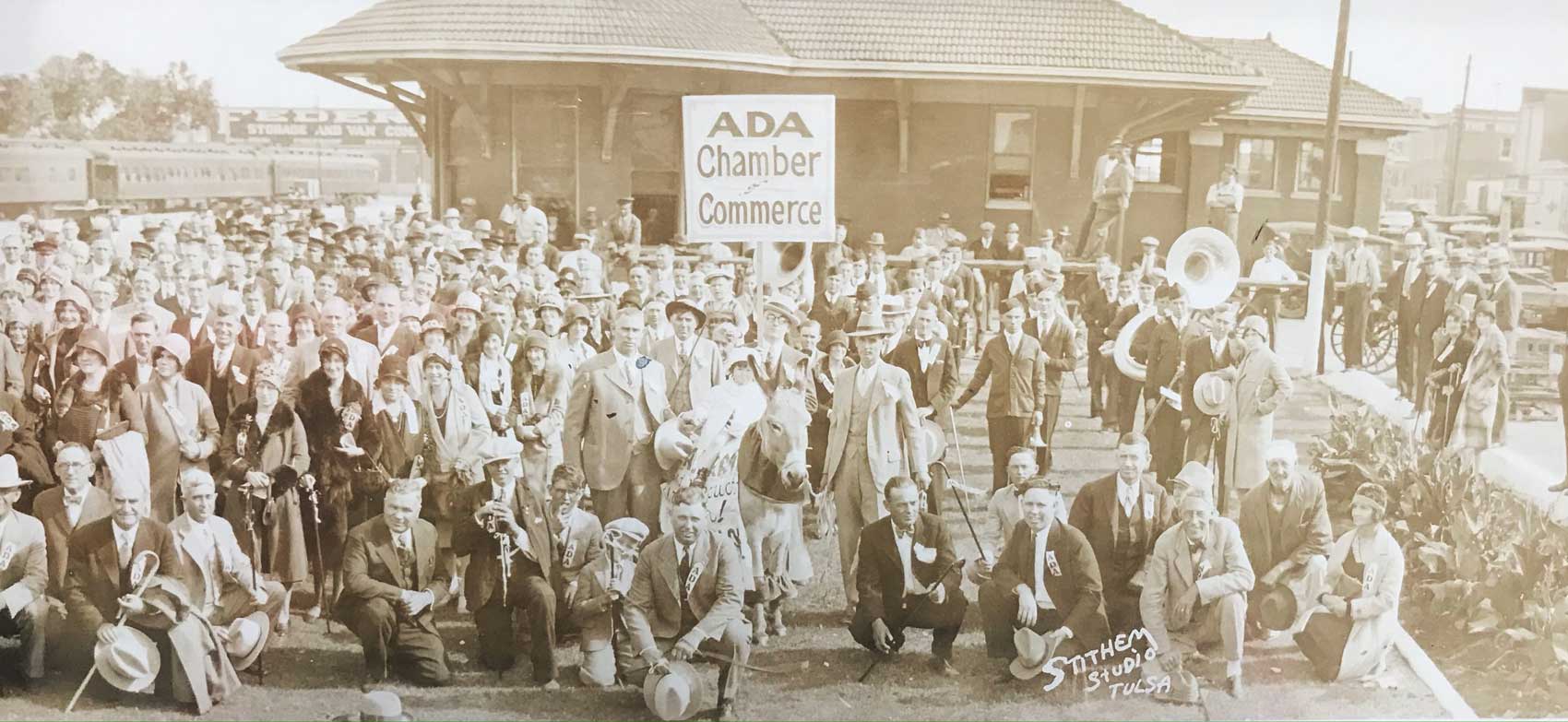 1925
Chamber plans included:
Boulevard encircling the city
Four additional free parks
East and West airline from Birmingham to San Diego via Ada Airport
Hard Surfaced roads on Highway 19 from Ada to Stonewall
Free bridge across the Canadian River between Francis and Sasakwa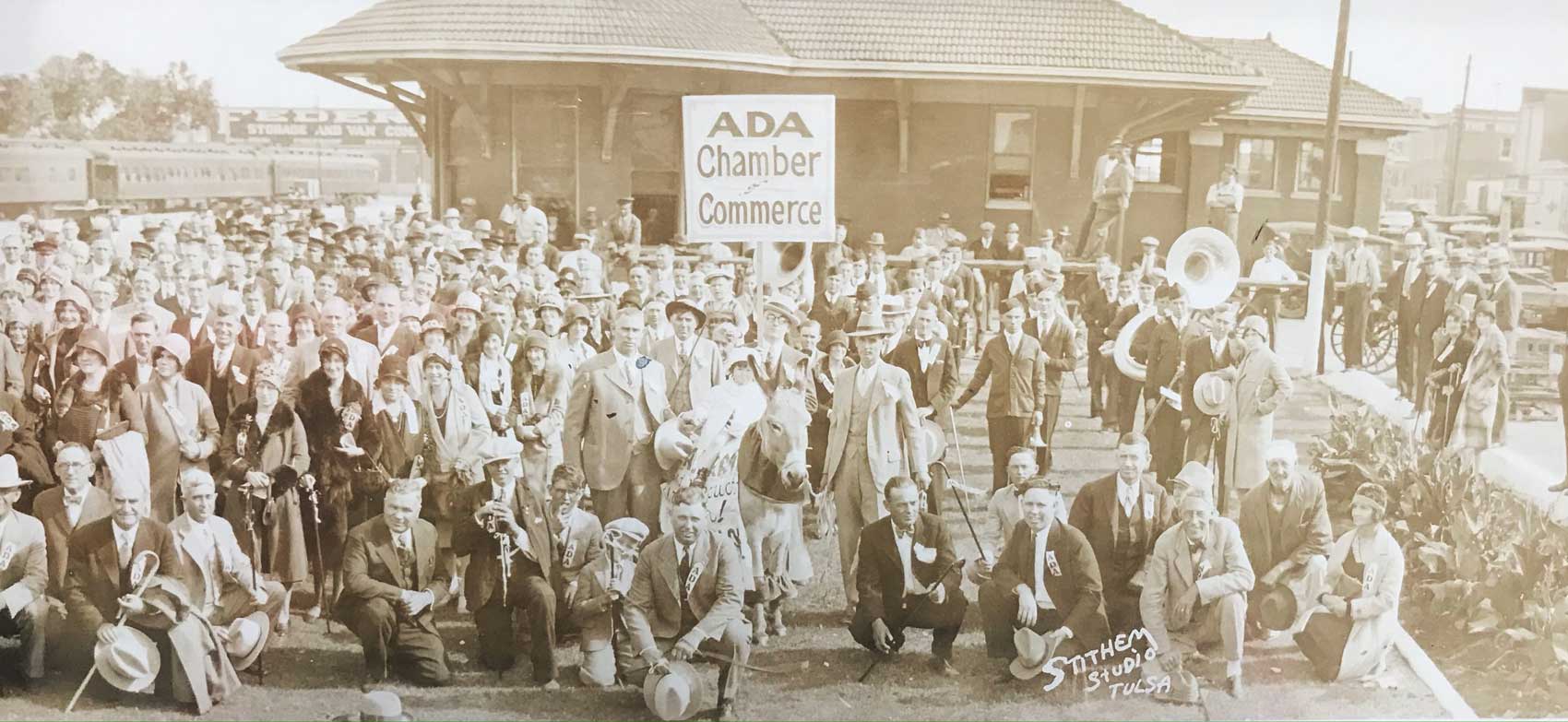 1935
Ada's population was 15,000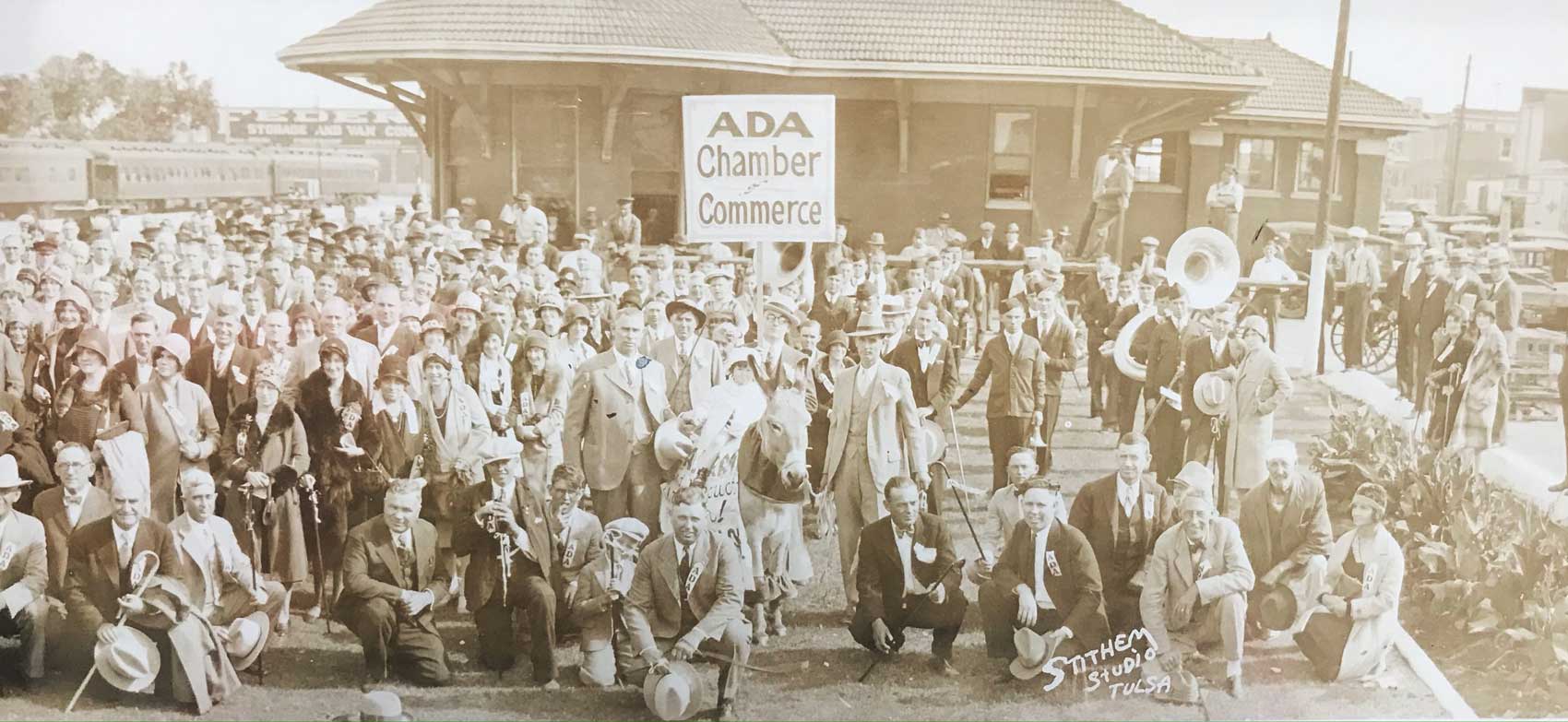 1938
Growth from 1930 – 1938
Cummings Building
J.C. Hynds
Aldridge Hotel
Remodel of First National Bank (Vision Bank today)
Expansion of Gluckman Department Store
Remodel of McSwain Theatre
KADA radio station started
Thomas Concrete Pipe Company
Smith Packing Company
Firestone Auto Supply and Service
Valley View Hospital built
Peoples Electric Cooperative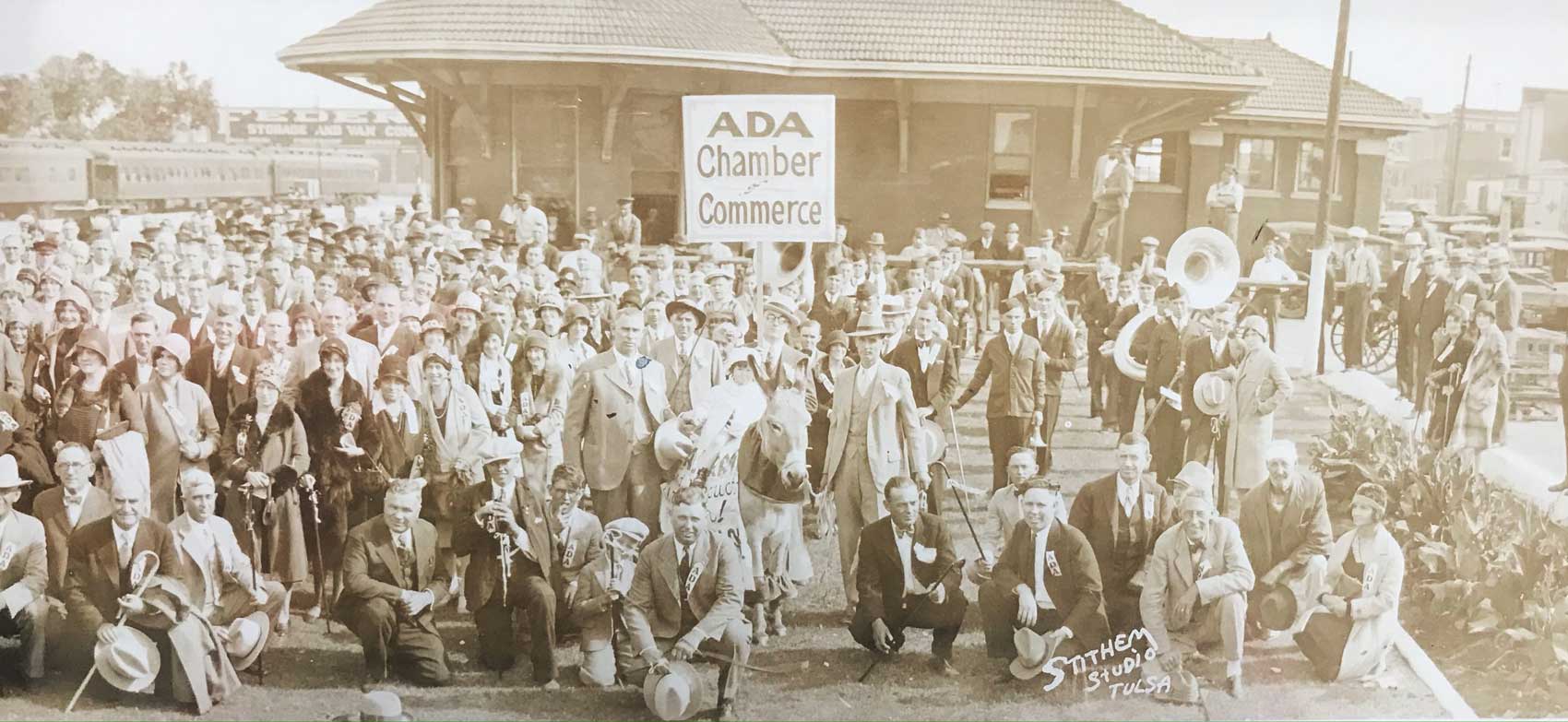 1941
Chamber of Commerce secured a girls National Youth Administration site in Ada. This was a student "beneficial relief program" to help students after the Great Depression.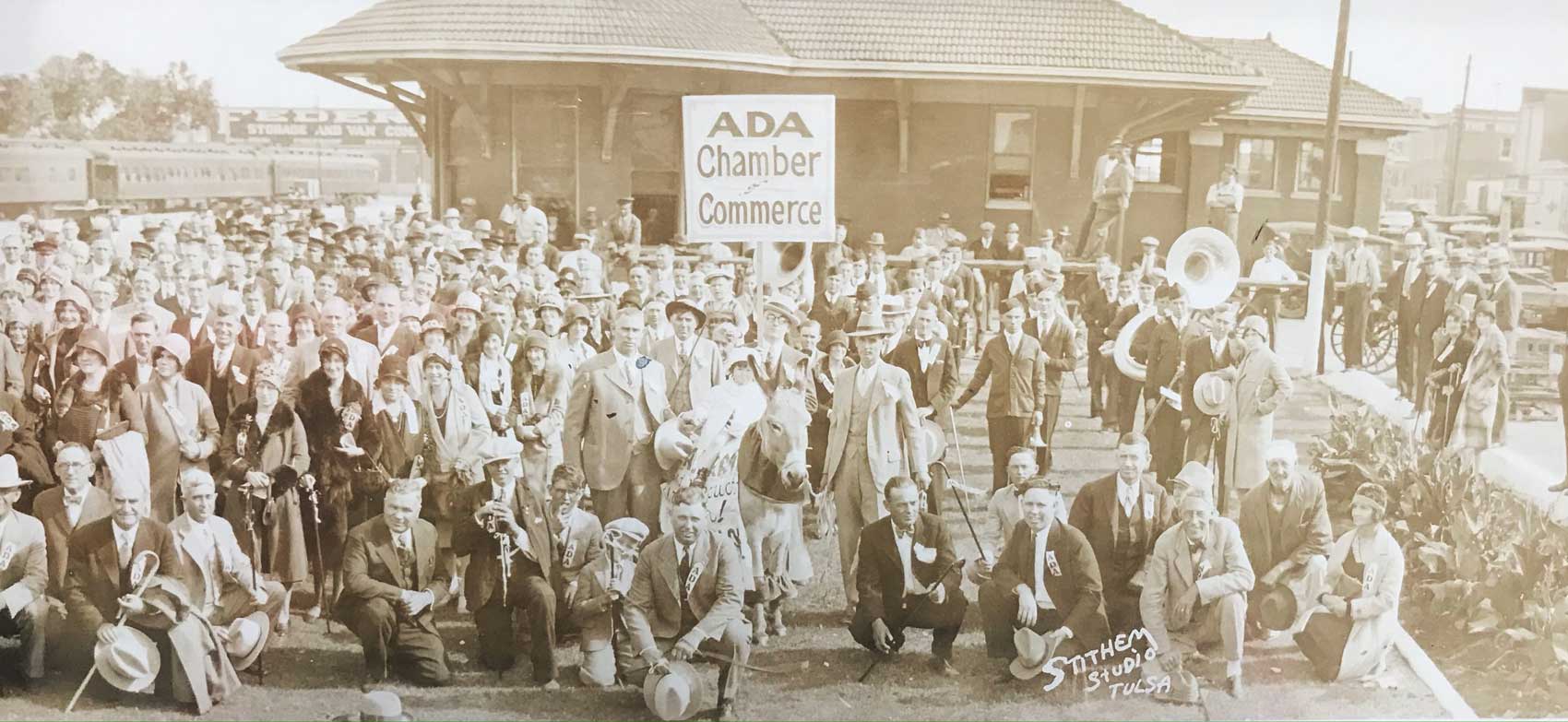 1940-1949
1940  – 1949 the Ada Chamber of Commerce created financial packages to attract:
Cudahy Cheese and Processing plant
1949 -Packing houses
Wickham Packing Company
Reeve's Meat Packing
Montgomery Ward Department Store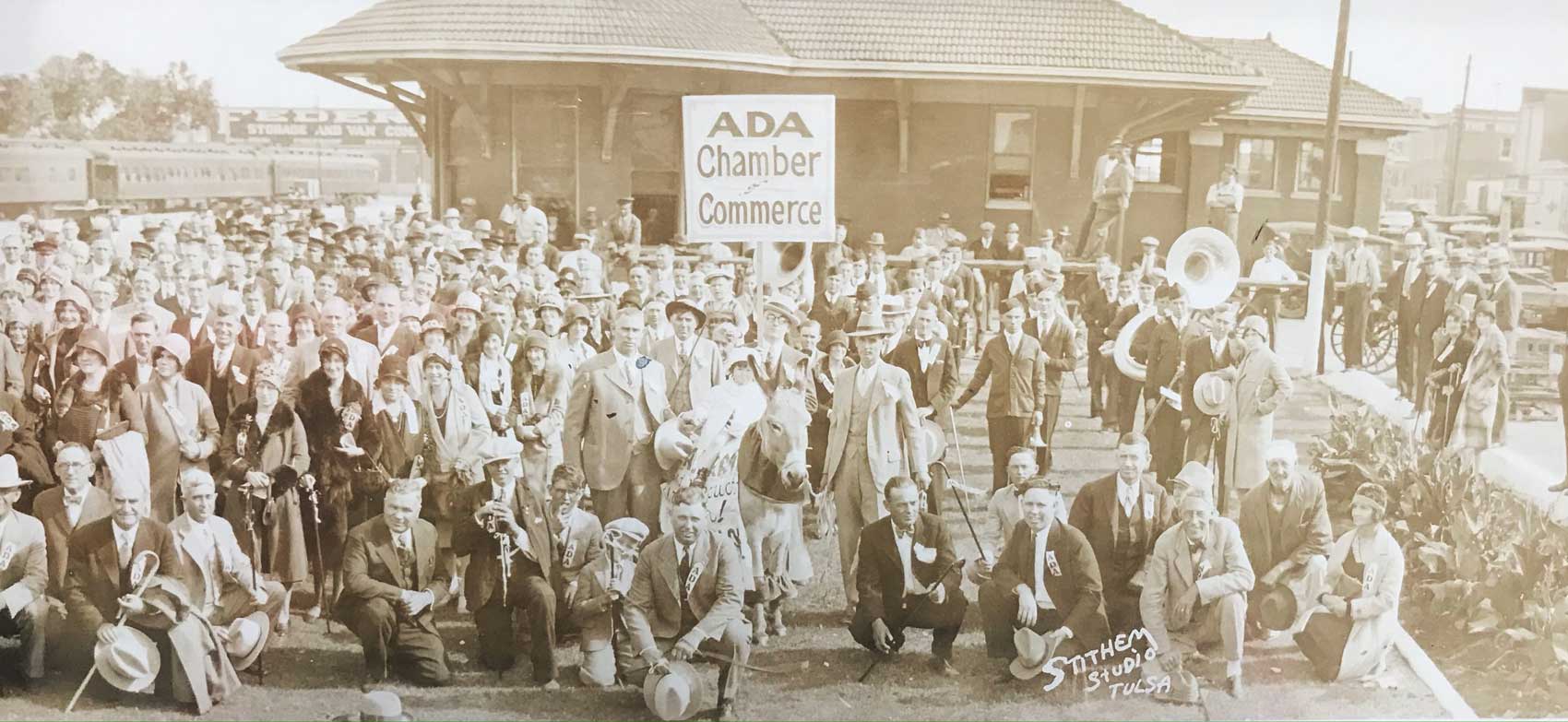 1951
Ada Chamber of Commerce created AIDC – the Ada Industrial Development Corporation. AIDC quickly raised $112,700 through the sale of stocks to be used for Economic Development. At this point in time, the Ada Chamber of Commerce took a back seat on Economic Development.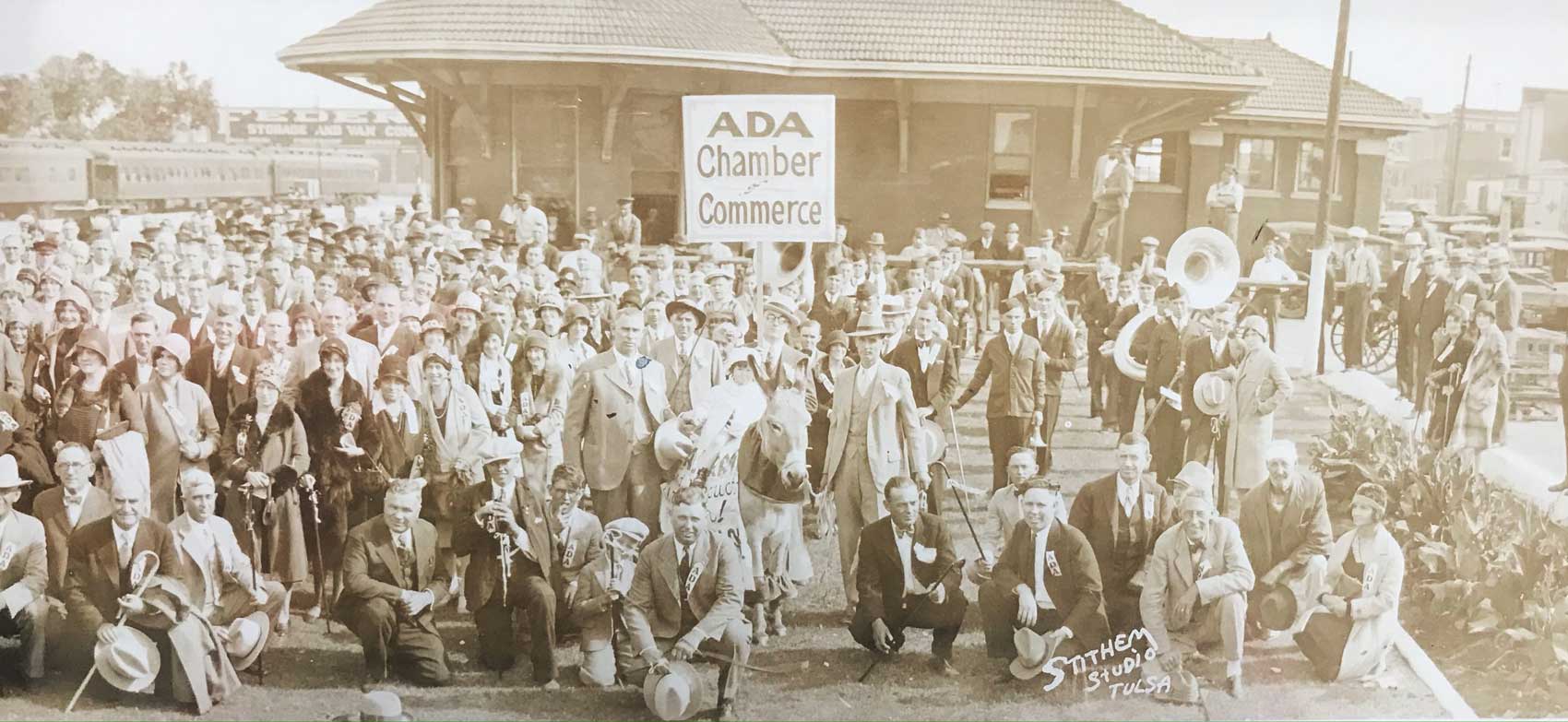 1961
Robert S. Kerr attended the annual Chamber of Commerce banquet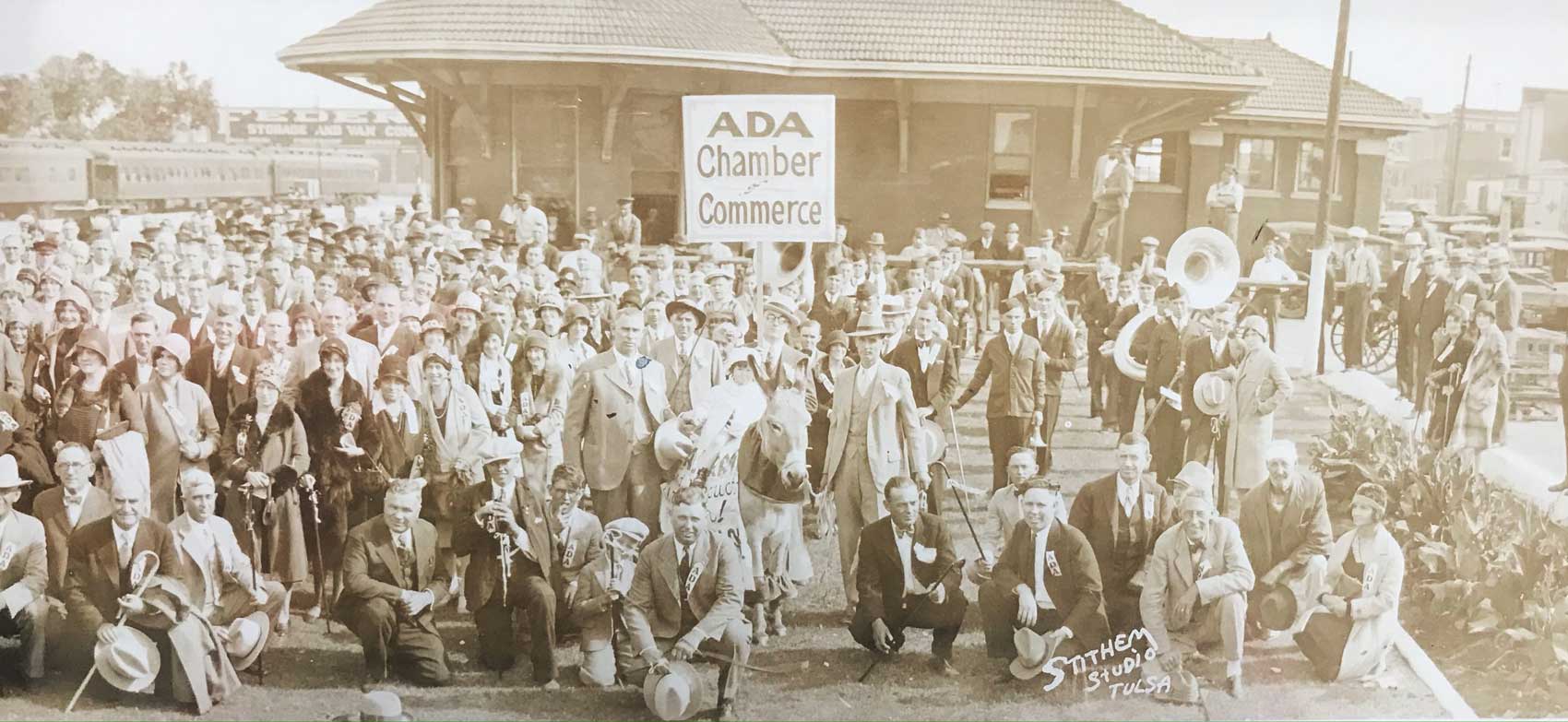 1954
Ideal Cement opened a $30 million plant and the world's longest conveyor bell (5.4 miles) was built to haul rock and shale.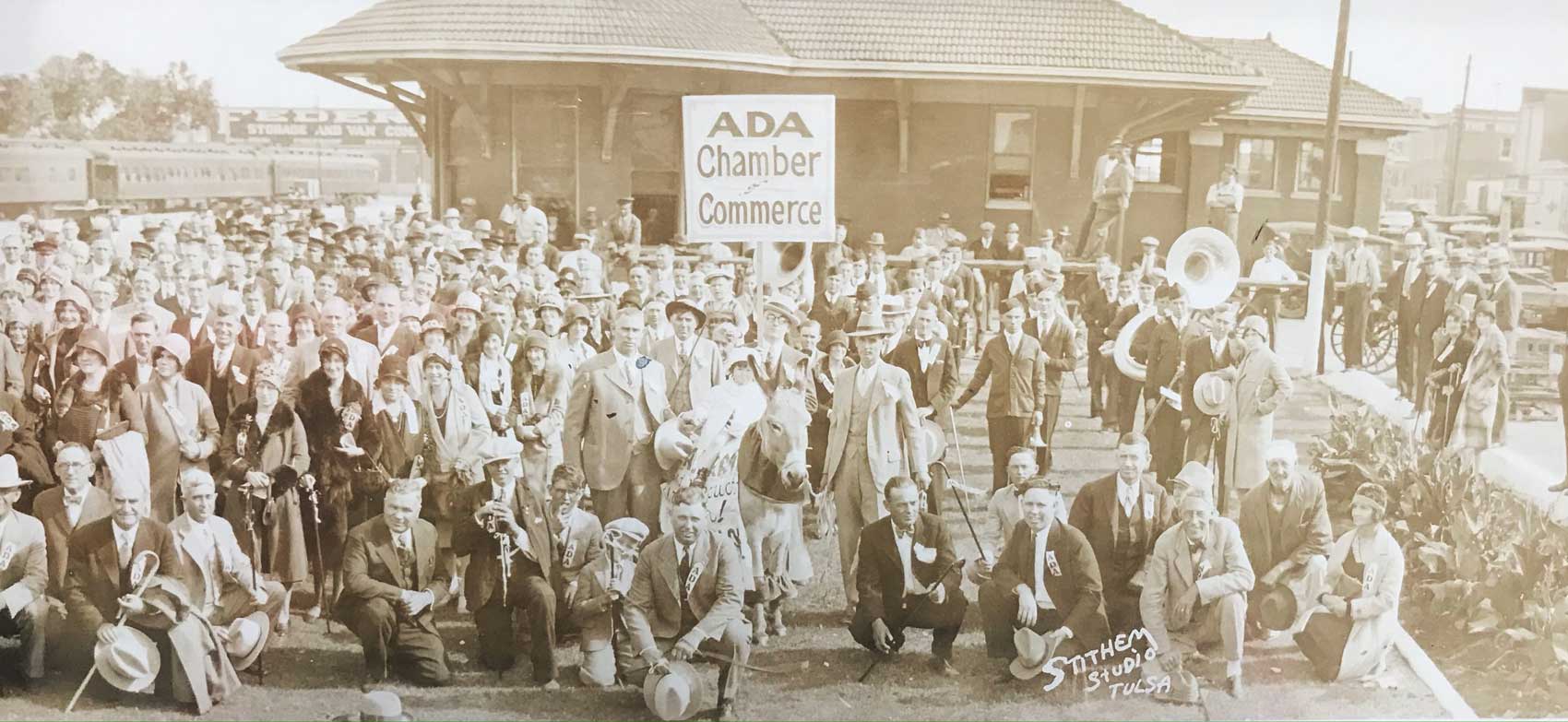 1960
Ada Chamber of Commerce created a "bull ring" for competitive livestock markets. In 1960, cattle outnumbered people in Ada with a value exceeding $5 million.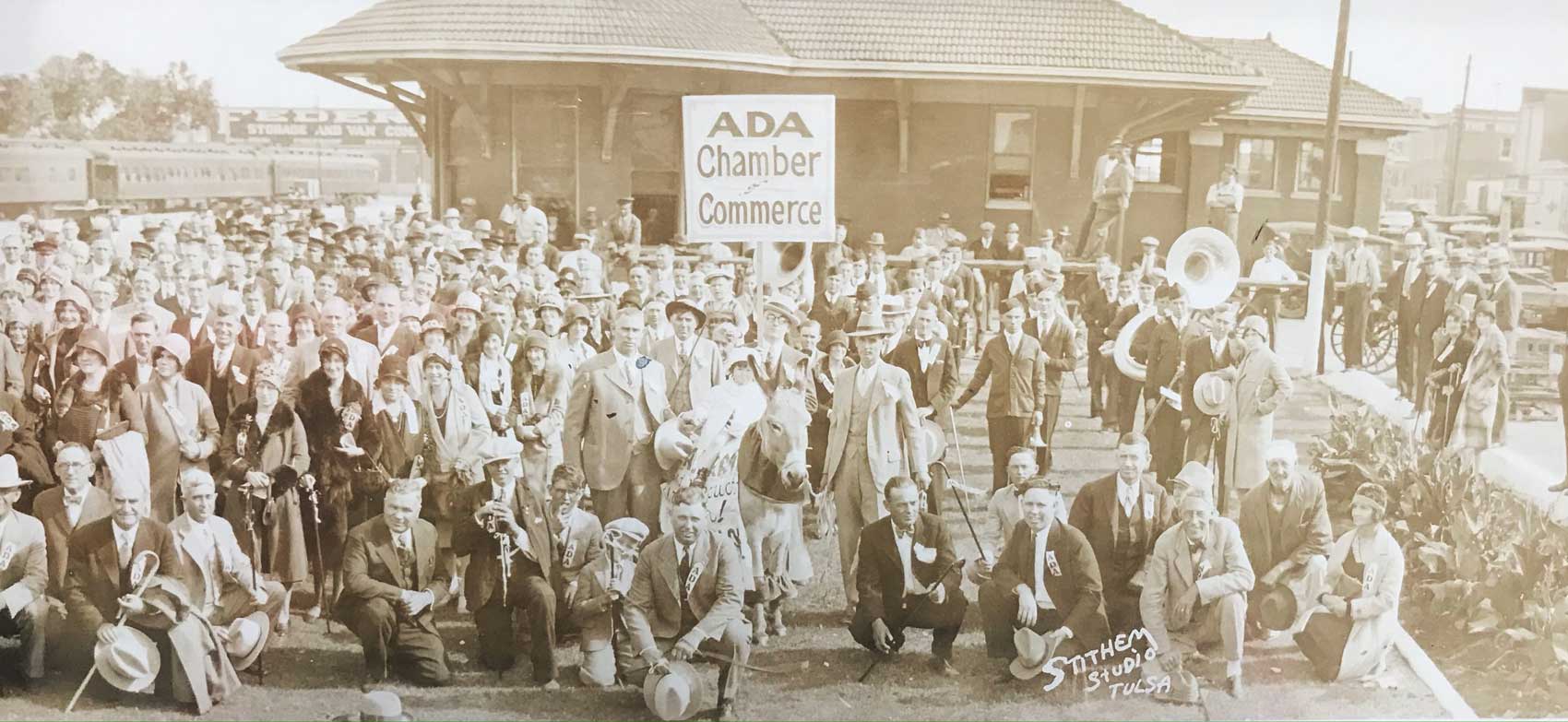 1964
Kerr Research Lab opened with help from the Chamber of Commerce and AIDC.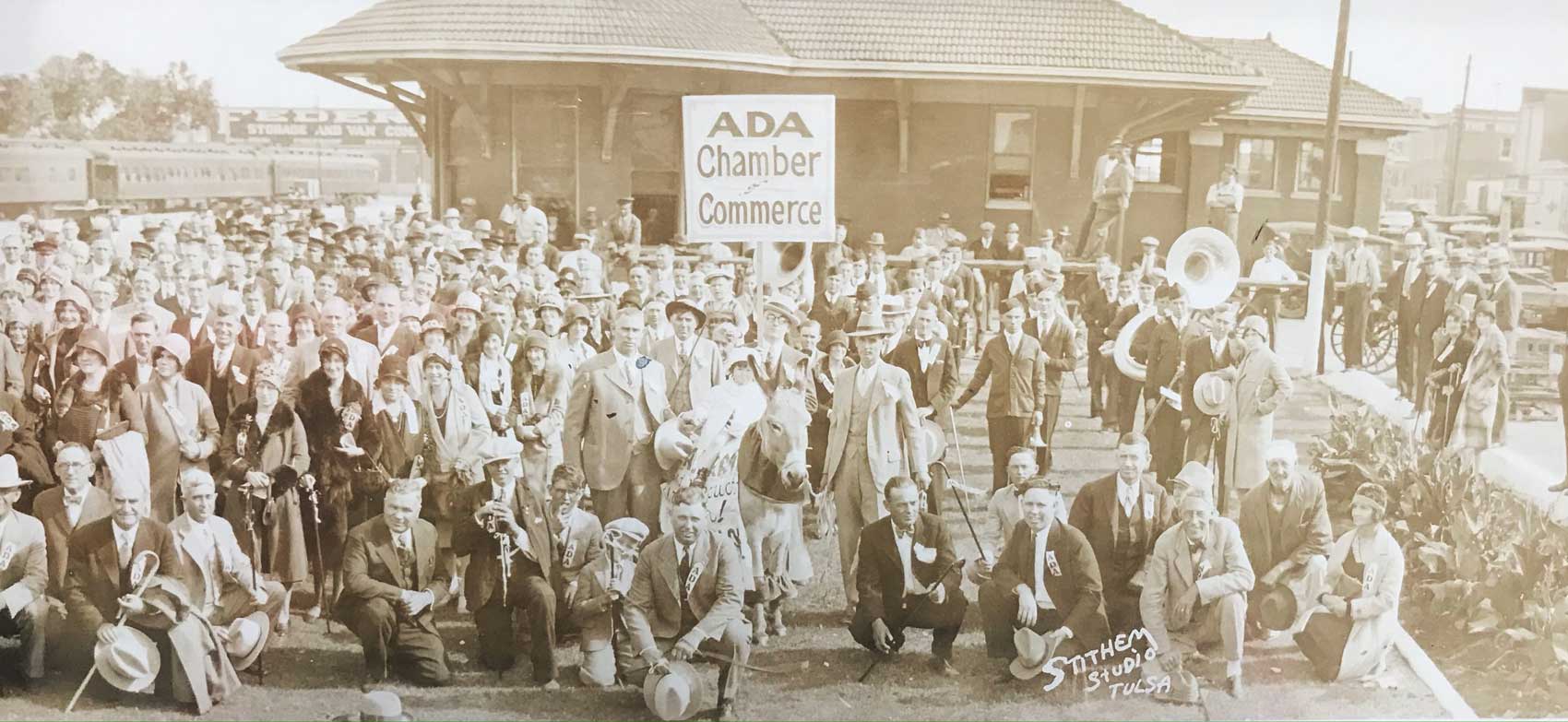 1960-1969
1960 – 1969
Ada Chamber of Commerce and AIDC worked to bring industry and to manufacturing to Ada, in addition to improving the water supply, 1969 infrastructure, and parks system. In the 1960s, it was noted that "efforts to improve the quality of life for all citizens would also have a high priority.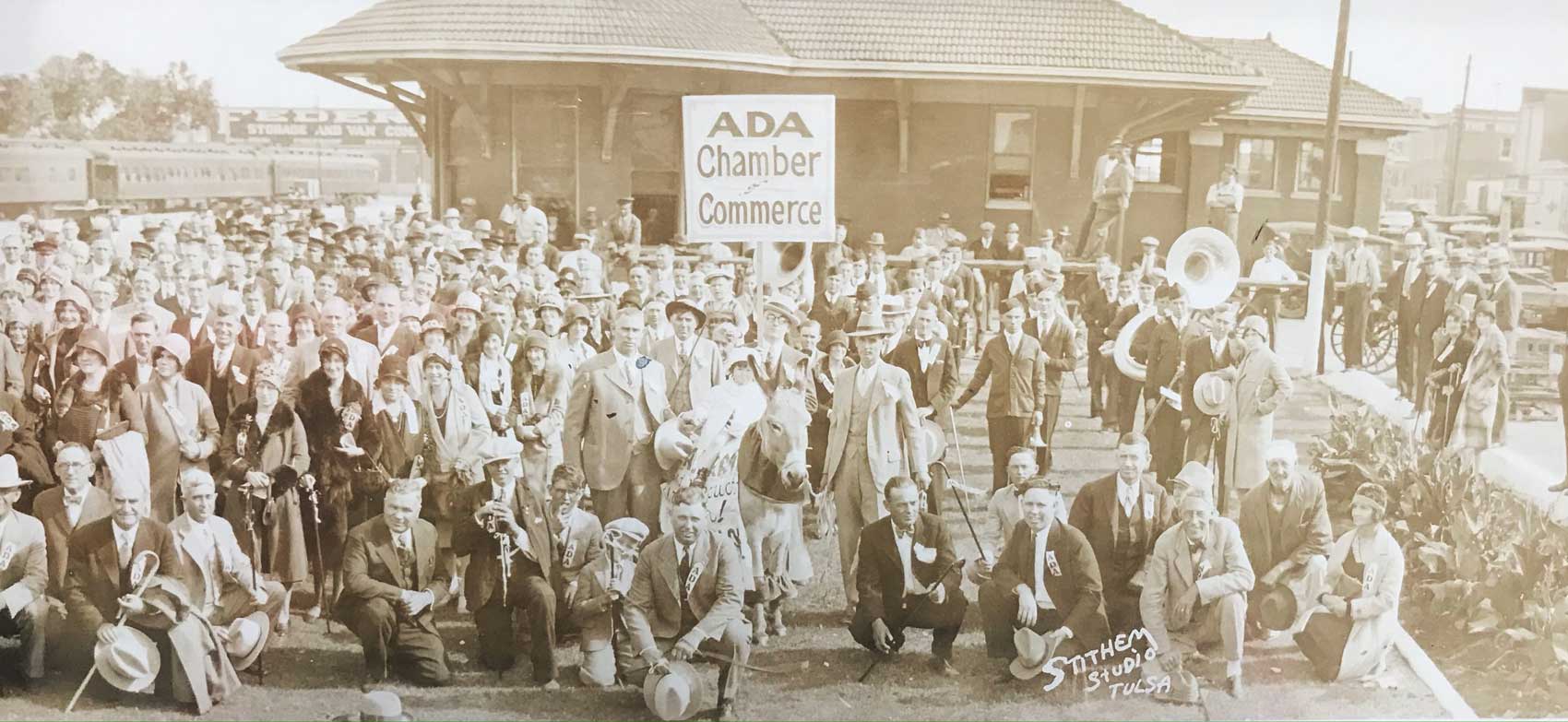 1972
Chamber helped Ideal Cement fund $3 million renovation of their plant based on new EPA standards.
Chamber offered land by the Kerr Lab to the Chickasaw Nation for their new headquarters. AIDC offered land "just outside of the city limits" on the corner of Arlington and Mississippi. The rest is history!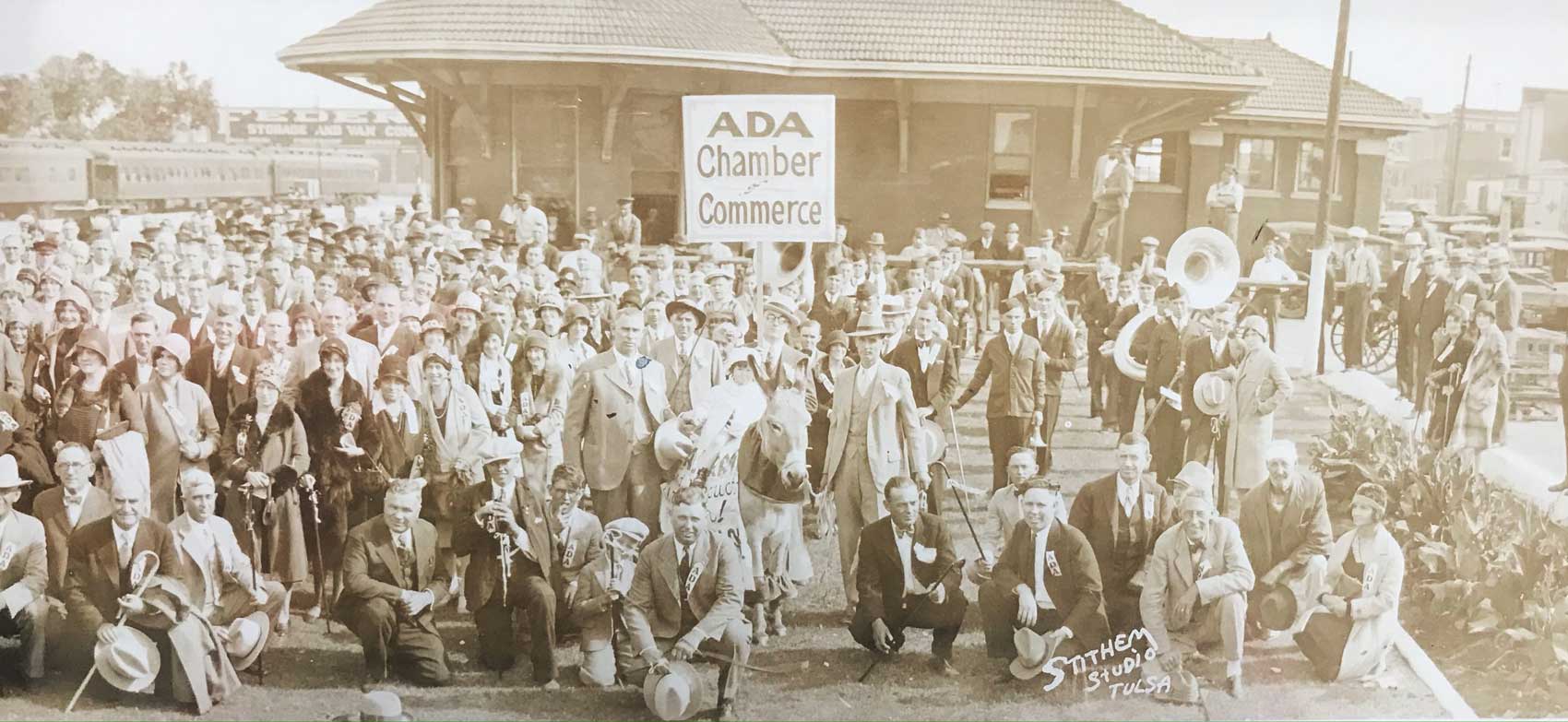 1980
Ada Chamber of Commerce re-invented itself claiming its goal to promote economic development and to do whatever is required to stimulate positive economic conditions that will improve the community's quality of life.
Solo Cup company started
Chamber established 130 acre Industrial Park on North Broadway
Vindale Corporation started (mobile home manufacturer)
Scott Manufacturing Company
General Tire and Rubber
K-Mart
Arlington Center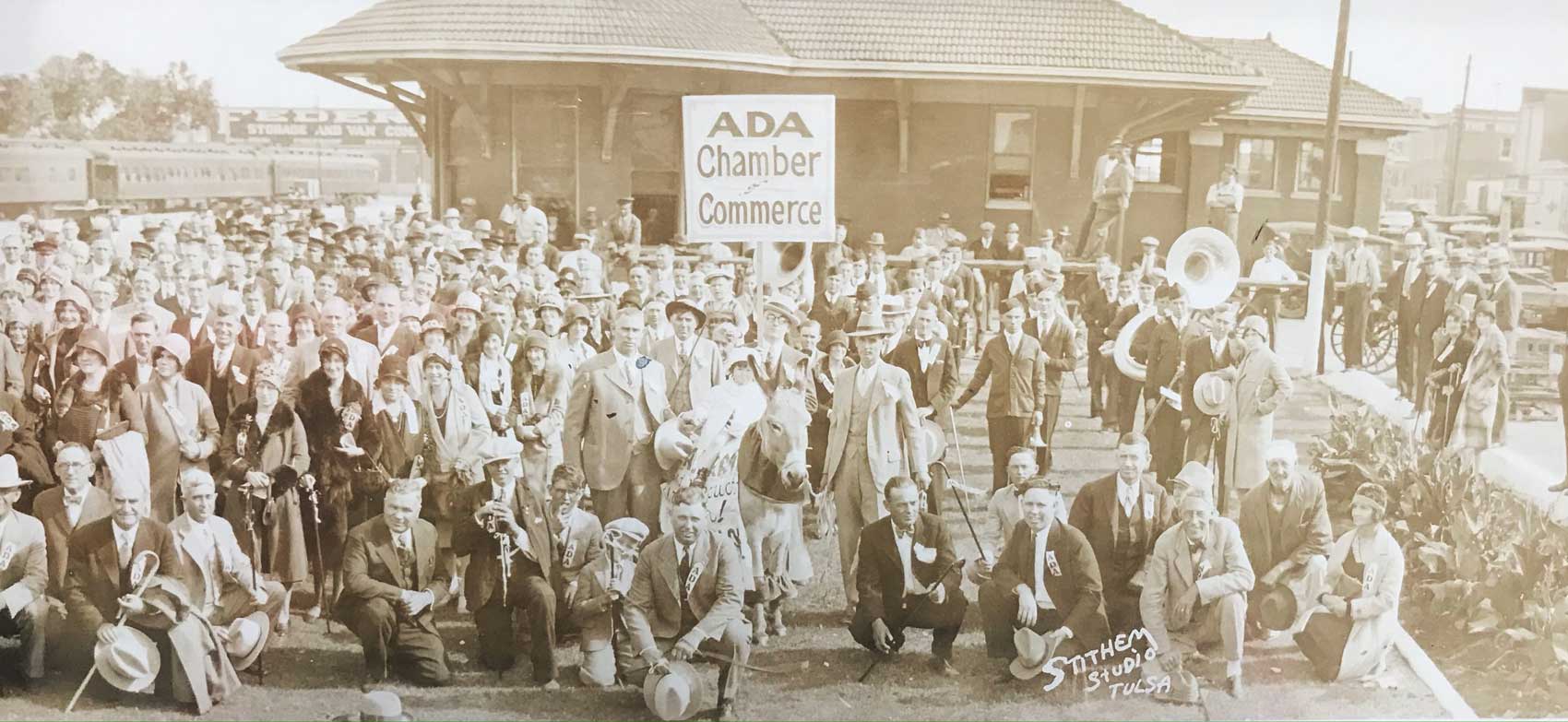 1989
Ada Chamber of Commerce influential in bringing Rolling Hills Psychiatric Hospital to Ada.
Chamber helped recruit:
Americus Corporation (later became APEX Composites)
Surgical Specialities
Chamber helped keep:
Cambrose Technologies (JP Emco, Inc.) – 350 jobs
Chamber lobbied:
Signed a resolution supporting the faculty of ECU in response to their protest of a new university president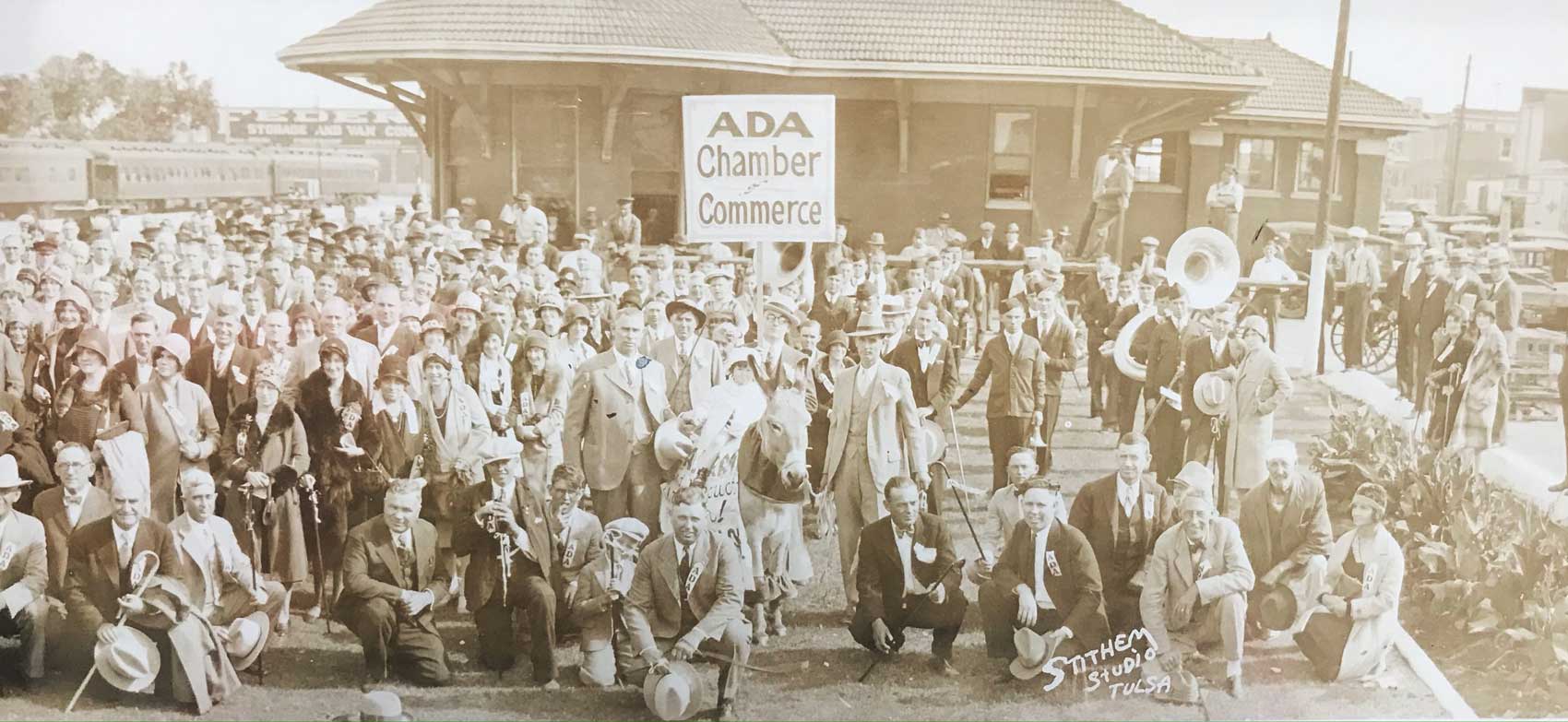 1999
Creation of Ada Jobs Foundation. In conjunction with AIDC, these two entities have become the economic development authority for the city of Ada.