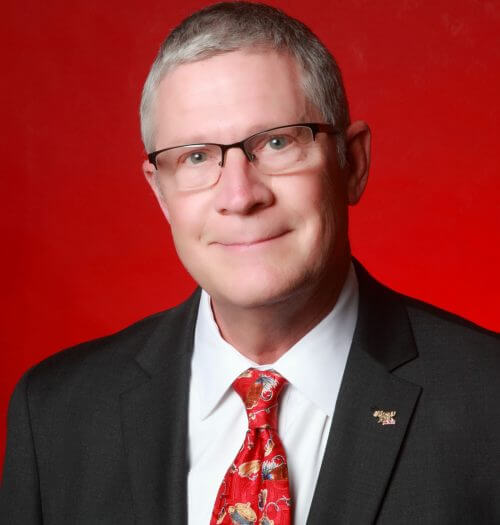 Chris Feiler
Chairman
Citizens Bank
Welcome to the Ada Area Chamber of Commerce
My name is Chris Feiler, and it is my honor and privilege to serve on the Ada Area Chamber of Commerce Board. I know how important it is to be an active member of the Ada Area Chamber of Commerce and it is my duty as a member of this community to be present and stay involved. The Chamber is dedicated to promoting and engaging our investors. The Chamber works with Community leaders to provide informative and educational events, to keep our community well informed on local issues. Networking is an important part of what the Chamber is promoting, and I feel the work being done by the Chamber is essential in helping to improve our community.
It is my pleasure to serve as the Chair of the Board of Directors in 2023 alongside a fantastic group of talented and hardworking business leaders.
Chris Feiler
Citizens Bank
GET TO KNOW THE BOARD OF DIRECTORS
Chris Feiler - Citizens Bank
Chairman
Mr. Chris Feiler is the Public Relations Officer at Citizens Bank. He is an ECU Graduate. He is married to Loretta Feiler, has 3 children and 5 grandchildren. Chris enjoys hunting, fishing, Ada High School and OU sports. He also enjoys serving the people of Ada!
Mason L. Groves - People's Electric Cooperative
Chair - Elect
Mr. Mason L. Groves is the VP of Accounting & Special Projects for People's Electric Cooperative. He graduated from East Central University wth a Bachelor of Science and Master of Science in accounting and has been a member of both the AICPA and OSCPA since 2017.  He was named a 2020 Trailblazer by the Oklahoma Society of CPA's and was also a 2020 graduate of the AICPA Leadership Academy.  Mason lives in Byng with his wife, Shannon, son, Maverick, and daughter, Taylynn.
Gage B. Busby - Gage B. Busby C.P.A., P.C.
Treasurer/Chamber
Mr. Gage Busby, CPA serves as Treasurer for the Ada Area Chamber of Commerce. Gage grew up in a small southern town called Dougherty, many of you may remember stopping by the local Catfish Kitchen to grab some delicious catfish and a glass of sweet tea after a long morning on the Arbuckle Lake, which was owned and operated by Granny Busby, and you might have caught a glimpse of a much younger Gage running food to tables. Many might say Granny Busby started Gage's entrepreneurial itch as he began his own lawn mowing business by the age of thirteen. Mr. Busby attended Davis High School and then went on to pursue his bachelor's and master's degree of accounting at East Central University, Go Tigers. He started his accounting career out at Ada's own, Lowe & Webb, then spent a few years at BKD working in many diverse areas of tax. After many years in tax accounting, learning from some of the brightest accounting minds in Oklahoma, decided to open his own firm right here in Ada in 2020. He is passionate about helping the community and his clients navigate convoluted tax law as well as providing superior accounting services. Gage married his high school sweetheart, Dorie in 2016 and they have two fur babies, Zeus and Luna. When it's not tax season you can find them fishing, hunting, or golfing.
"Come meet us on the tees."
Wade Evans - Vision Bank
Past-Chair
Mr. Wade Evans grew up in Ada, graduated from ECU. He taught and coached at Ada for thirty-four years. He's been married to Daphne Evans for forty-two years and has two daughters, Ashley Witt and husband Tyler and Amy Boatwright and husband Brent. Plus four grandchildren Bo, Baylee, Kylee and Jules. In 2011 he was hired by Vision Bank as the  Director of Business Development. In his free time, Wade enjoys attending his grandchildren's activities.
Dr. Brandon Hill - East Central University
Scott Tulane - Mercy Hospital Ada
Jesse Williamson - Williamson's Furniture
Mr. Jesse Williamson graduated from Pauls Valley High School in 2013, after graduation he attended East Central University where he studied Business Administration with a concentration in Finance and got a certificate in banking. Jesse graduated from ECU in 2017 and had a job with Oklahoma AgCredit as a loan officer, he was there from 2017 till he left to open the Ada location for Williamson's Furniture in 2019. He moved back to Ada in 2019.
Mason Dillard - Vision Bank
Preston Draper - Oklahoma Council on Law Enforcement Education and Training (CLEET)
Tyler Mackey - Mackey Roofing Inc.
Tyler Mackey was born and raised in Ada, OK and now he's raising a family of his own here. He's married to Marissa Mackey and has 2 beautiful girls named MaKenna and Joeli. They are expecting their third child later this year. Tyler is a roofing contractor for Mackey Roofing Inc. His dad, Ronnie Mackey, started the business many years ago and Tyler's working to continue their brand and name as they grow every year.  He graduated from Vanoss in 2007 and then proceeded to attend East Central University where he obtained a degree in Criminal Justice. He enjoys camping, fishing, and traveling with his family.
Shane Johnson - First United Bank
Shane Johnson is married to his wife Gina, and have 4 children.  A graduate of Ada High School and the University of Oklahoma, Shane is proud to call Ada home.  Shane began his career with Service Chevrolet and eventually became dealer.  A career change lead him to First United Bank, where he is a community loan officer at the Arlington Branch in Ada, OK.  Besides faith and family; business development, creative lending, and a need to help others are his passions.
Wayne Scribner - The Chickasaw Nation
Mr. Wayne Scribner serves as the Cabinet Secretary for the Chickasaw Nation's Department of Community Services. The department of community services consists of eight divisions; the divisions of Housing, Grant and Support Services, Social Services, Youth Services, Aging, Chickasaw Employment Access, Support Services and Property and Facilities. Over 100 programs and services offered by the Chickasaw Nation are administered through these divisions. He also serves as executive director of the Chickasaw Housing Authority, a position he has held since 2004. Mr. Scribner has been employed by the Chickasaw Nation for over 35 years. Throughout Mr. Scribner's tenure he has had the privilege to serve as a board member for the Southern Plains Indian Housing Association, the Native American Housing Assistance and Self-Determination Act Formula Rulemaking Committee, and he was a former board member for Region IV AMERIND Risk Management Corporation. He currently serves as a member of the Board of Directors for the Arkansas Riverbed Authority. He is a graduate of Leadership Oklahoma Class 32. Mr. Scribner is a traditional Chickasaw bow maker and is passionate about keeping the Chickasaw culture alive. He devotes his time to teaching and mentoring the art of bow making so that the tradition will not be lost. Through his mentorship, apprentices have learned the process of bow making from the harvesting of the wood to the completion of a bow. He has been instrumental in reviving the tradition of cornstalk shooting for the Chickasaw tribe. He is an active member of the Chickasaw Cornstalk Bow Shooters Society; traveling across the state to compete in cornstalk tournaments.
Brooke Tidwell - Edward Jones Investments
Brooke Tidwell serves as a board member for the Ada Area Chamber of Commerce and the Ada Area Chamber of Commerce Foundation. Brooke grew up on a farm in northern Oklahoma and graduated from Billings High School. She received her bachelor's degree from Oklahoma State University and spent several years working within the communications field in educational and tribal organizations. She married Trent in 2004 and Teagan was born in 2009. She began working for Edward Jones as a Financial Advisor in 2018 and loves working with individuals to help make their financial goals a reality. When she's not working, Brooke enjoys spending time with family and friends, attending sporting events and relaxing at the lake or the beach.
Linda Townsend - The Clinic
Jerrol Price - Mead Lumber
Adam Crabtree - Ada Coca-Cola Bottling Co.
Have Questions About Joining?